Temple overview

◎ Religious school: Singon sect Chisan school of Shingon Buddhism
◎ Founded: Founded in 1892
◎ Founder: chief priest Kenmyo Hosokawa
◎ Current chief priest: The 3rd abbot, chief priest Kenryo Hosokawa
◎ Principal image: Fudo Myoo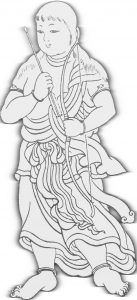 Pilgrim's hymn

History

The temple was founded in January 1892(Meiji 25), and was officially renamed Seiryu-ji Temple on March 25, 1897(Meiji 30).
Those who have been devoted to the main sect since their ancestors moved to this area, built a new building in the city in September 1891(Meiji 24), and are preparing to build a temple. It was recommended to start the establishment, and it was approved on March 25, 1897(Meiji 30).
Kaerumata and the main hall, and the front gate are made by Tora Kamiyama, the last shrine carver of the Sendai domain.
The main hall was designed by Hanawa Kikuzo, a master craftsman from northern Japan.
The front of the wooden high ridge has a staggered gable flow structure, a three-sided double roof structure, and all materials are from Kunashiri Island.
This timber was brought back from Kunashiri Island by carpenter Bunshichi Tanaka in 1903(Meiji 2) and was donated in 1869(Meiji 36).
Chishima Sakura is the largest variety of Miyama Sakura named by Dr. Kingo Miyabe of Hokkaido University in 1897(Meiji 2).
The main feature of Chishima Sakura is that it has hair mushrooms on its leaves and stems, and it has the best scent of all cherry blossoms.
This cherry blossom will bloom around May 20th.
Access

5 minutes walk from Nemuro Station on the JR Nemuro Main Line.

Turn left at the Hokuto Elementary School signal on Route 44 for 1 minute.


<Addres>
2-2 Matsumotocho,
Nemuro-shi, Hokkaido 087-0044
Japan

TEL 0153-23-2942