Temple overview

◎ Religious school: Koyasan Shingon sect
◎ Founded: Founded in 1919
◎ Founder: chief priest Saijun Takemoto
◎ Current chief priest: The 3rd abbot, chief priest Jiko Orita
◎ Principal image: Fudo Myoo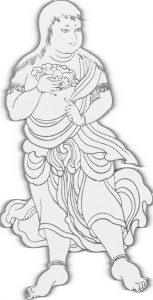 Pilgrim's hymn

History

In 1919(Taisho era), Saijun Takemoto the Founder chief priest discovers spring water on the hillside of a small mountain overlooking the city over the mountains in order to search for the land of the temple in Rubesibe.
He thought the water would allow him to live in the mountains and planned to build a temple on this land and turn the grounds into a large park.
Before the temple was built, he collected and planted garden trees, including onko trees. Then, with the help of his parishioners, he built a road and a hall, and named it the Rubeibe Branch of Koyasan Daishi-do Church. It was commonly called Rubeibei Koya-san.
A pond was dug on the mountain and made into a park, and the 88 new Shikoku temples and 33 new Saigoku temples were enshrined, making it a major sacred site.
Cherry blossoms in the spring, rhododendrons in the summer, and autumn leaves in the fall, the trees planted by the founder chief priest of the temple add color to the temple in each of the four seasons.
1947(Showa 22) Temple name nominal. Matsumitsuyama Keisho-ji Temple.
1957(Showa 32) The new main hall is built.
Many people visit the 88 temples to make a wish and receive benefits from the principal image of Fudo Myoo.
In the precincts of the temple, there is a statue of Shugyo Daishi carved from a large laurel tree.
This is the 31st temple of the 88 sacred places in Hokkaido.
Access

A 10-minute walk from JR Rubeshibe Station.


<Addres>
119 Rubeshibecho Miyashitacho,
Kitami-shi, Hokkaido 091-0008
Japan

TEL 0157-42-2653