Temple overview

◎ Religious school: Singon sect chisan school of Shingon Buddhism
◎ Founded: Founded in 1918
◎ Founder: chief priest Ryusui Tanigawa
◎ Current chief priest: The 3rd abbot, chief priest Ryusen Tanigawa
◎ Principal image: Fudo Myoo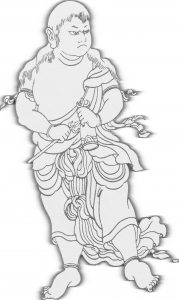 Pilgrim's hymn

History

The temple has been known as "Narita-san" to the local people since that time. Climbing the stone stairs from Ninkoro Kaido, one enters the sacred area surrounded by trees.
The temple was founded in 1918(Taisho 7) and monk Tanigawa Ryusui sojo was from Takidan-ji Temple in Fukui Prefecture.
Fudo Myoo, the main deity of the temple, is said to bring good fortune and luck to people's lives, and a large number of parishioners visit the temple every year during the Setsubun Festival in February and the Grand Festival in June to practice goma-kuyo.
On April 29th, the sacred sand stomping ceremony will be held at the 88 sacred places in Shikoku.
Mizuko Jizo is enshrined in the precincts, and many people worship to pray for the memorial service of children who died before their parents.
A stone Yakushi Nyorai and Jizo Bosatsu are enshrined here and are believed to cure eye diseases.
There is a large oak tree in the precincts and the garden is beautifully decorated with cherry blossoms, azaleas, rhododendrons and hydrangeas each season.
This temple is the center of the Narita Fudo faith in this region.
Access

10 minutes walk from Kitami Station on the Sekihoku Line.

There is a direct bus between Asahikawa and Kitami, and it is a 10-minute walk.


<Addres>
5-16 Kita5-johigashi,
Kitami-shi, Hokkaido 090-0025
Japan

TEL 0157-23-4414