Temple overview

◎ Religious school: Singon sect Chisan school of Shingon Buddhism
◎ Founded: Founded in 1883
◎ Founder: chief priest Shoko Miike
◎ Current chief priest: The 2rd abbot, chief priest Shotai Kisida
◎ Narita-san Shinei-ji Shukan: Shoko Tani
◎ Principal image: Fudo Myoo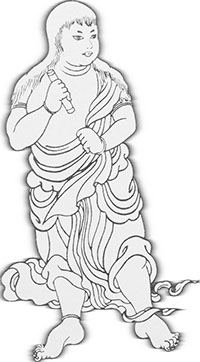 Pilgrim's hymn

History

Since the Hokkaido Development Commission was appointed in 1897(Meiji 2), many people from Honshu, Shikoku, and Kyushu have moved to Hokkaido to develop new lands.
According to the records of the time, the pioneering of Hokkaido, with its harsh natural environment, was not an easy task, and they experienced hardships that cannot be described in words.
In the midst of such hardships, more than 1,000 people who believed in O-Fudo-sama as a source of emotional support became the founders of Narita-san Shin-ei-ji Temple, which was established in 1885(Meiji 18) by inviting a branch of Fudo-sama from Naritasan Shinsho-ji Temple.
According to the official documents of the temple, a temporary hall was built at Minami 3jo Nishi 6chome and the main deity was consecrated there.
It was moved to Minami 7-jo Nishi 3-chome, Sapporo in 1887(Meiji 20).
official name of a temple Narita-san Sapporo Betsuin Shin-ei-ji in 1889(Meiji 22).
境内施設

Main hall

Built as a project to commemorate the 120th anniversary of the founding of 2005(Heisei 17)

2nd floor
Main Hall Honzon Fudo Myoo a goma offering Dojo

Ground Floor
Komyo-den (Hall of Light): 1,000 Buddhas enshrined

Facilities for pilgrimage to 88 temples in Shikoku

Jizo Hall Jizo Bosatsu (Bodhisattva), enshrined as Mizuko Jizo

Taishi Hall, built in 1934, important building of Sapporo City

Kobo-Daishi and Kogyo-Daishi

Saikoku Sanjusang Kannon Reikoba Gohonzon 33 Buddhas

Fukukenjaku Kannon

Hokkaido Sanjusang Kannon Reikoba Ninth Sasho Honzon

Access

5 to 6 minutes by cab from the south exit of JR Sapporo Station.

5 minute walk from Susukino Station on the Subway Namboku Line.

5 minute walk from Hosui Susukino Station on the Subway Tozai Line.


<Addres>
7-3-2 Minami7-jonishi Chuo-ku,
Sapporo-shi, Hokkaido 064-0807
Japan

TEL 011-511-0927