Temple overview

◎ Religious school: Singon sect Chisan school of Shingon Buddhism
◎ Founded: Founded in 1908
◎ Founder: chief priest Zento Takizawa
◎ Current chief priest: The 3rd abbot, chief priest Kensho Abe
◎ Principal image: Fudo Myoo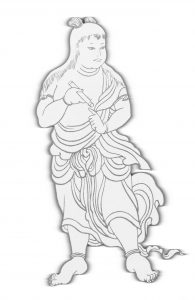 Pilgrim's hymn

History

Henjo-ji Temple was established a sermon office in 1891 by Zento Takizawa in Motomura Aza Nishinohara.
Moved to the current location in 1911. In the 5th year of the Taisho era, the main hall was built and the main temple was honored by Fudo Myo
The statue of Kobo-Daishi and Kogyo-Daishi is enshrined in the side .
The temple name is officially approved in the 2nd year of the Taisho era.
Since then, it has been worshiped as an immovable person of five-grain fertility (pray for a good harvest), inheriting the Hoto as a prayer dojo for the prayers of this world and the fulfillment of various wishes.
The grounds of the temple are a sacred site for the 88 sacred places on Shikoku Island, and there is also the Koyasu Kobo Daishi Hall, which enshrines Koyasu Kobo Daishi, the great master of safe childbirth.
It is also the 59th temple of the 88 sacred places in Hokkaido, and is dedicated to the Yakushi Nyorai.
The precincts are a scenic garden and you can enjoy it throughout the season.
霊験談

The pioneers had to fight against nature before they could plant and harvest.
It's a battle against nature: frost, rain, pests, and cold damage from falling large trees. Even after the harvest season, the land is ravaged by rats and deer. We are also attacked by bears.
For self-defense, everyone prepared a "bear killing sword". Although it was not often used, it is said that there were times when people fought with this sword.
In the beginning of the Showa era, people (believers) came...
He said, "This sword killed a bear, but it protected me and my family. I would like to pray for the bear's bodhi and the safety of my family."
The family endured the war, and the sword is still dedicated, protecting believers along with Fudo-Myoo.
Access

5 minutes walk from Donan Bus (Sapporo-Toya Onsen) "Minohara".

5 minutes walk from Donan Bus (Kutchan-Toya) "Minohara".

The car is one and a half hours from Sapporo on National Highway 230.


<Addres>
270 Sannohara Rusutsu-mura,
Abuta-gun, Hokkaido 048-1723
Japan

TEL 0136-46-3773