Temple overview

◎ Religious school: Singon sect Chisan school of Shingon Buddhism
◎ Founded: Founded in 1891
◎ Founder: chief priest Keigaku Nakagawa
◎ Current chief priest: The 4rd abbot, chief priest Yuya Matumoto
◎ Principal image: Fudo Myoo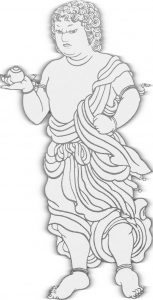 Pilgrim's hymn

History

Keigaku Nakayama, the founder and head priest of the temple, came to Hokkaido from the head temple of the Chisan sect in 1890(Meiji 23) as a missionary.
At that time, the Bodai-ji Temple was erected in Suttsu-cho, which was prosperous in Nishiso fishing, with Fudo Myo was principal image.
The principal image Fudo Myo was dedicated by Fukuzo Yoneya who traveled to Hokkaido in 1883(Meiji 33).
This Fudo Myo'o belonged to a lord named Satake Ukyo in Akita Prefecture, and was given to the Motoyama Temple (a mountain temple with a non-syllabic temple name, commonly called the Motoyama Temple), a Shingon sect prayer hall.
This statue's appearance is dark and sweaty, as if heavy oil has been poured on his head, but his eyes are shining. The dark color is due to the smoldering of Shingon goma, candles and incense sticks that have been used for a long time.
In the town, there is a herring palace and a statue of Benkei that remind us of the old days, and in Benkei Misaki Park, there is a 3-meter bronze statue of Benkei along with a lighthouse.
Access

30 minutes by Niseko Bus from JR Kuromatsunai Station.

Take the Chuo Bus and get off at Suttsu Bus Terminal.

My car is along National Highway 229.


<Addres>
236 Shineicho Suttsu-cho,
Suttsu-gun, Hokkaido 048-0401
Japan

TEL 01366-2-2632