Temple overview

◎ Religious school: Singon sect Chisan school of Shingon Buddhism
◎ Founded: Founded in 1903
◎ Founder: chief priest Shusei Yamada
◎ Current chief priest: The 6rd abbot, chief priest Shohan Usui
◎ Principal image: Fudo Myoo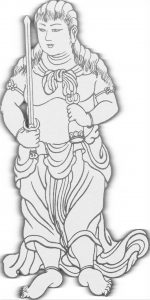 Pilgrim's hymn

History

The founded chief priest Shusei Yamada of this temple opened a preaching office in Otaru City with Fudo Myo, who was opening the eyes by Shogon Ishikawa, the 16th priest of Naritasan Shinshoji Temple in Omotoyama, and made an effort to educate the believers.
After the Russo-Japanese War, he extended his teaching line with the development of trade on the opposite bank.
The name of the temple was officially changed in April 1947(Showa 22) when the 2nd Kitagawa realized and the 3rd Kitagawa Sanehide became the abbot.
In August 1952(Showa 27), the temple was changed to the 4th head priest, Hideyasu Kishida, and in May 1957(Showa 32), the temple was approved as a direct descendant of Daihonzan Naritasan Shinshoji Temple.
In May 2001(Heisei 13), he became the 5th abbot Shotai Kishida and in February 2006(Heisei 18), he is became the 6th abbot Shohan Usui.
In 2013(Heisei 25), the temple celebrated the 110th anniversary of its founding, and as the only temple in Otaru directly affiliated with Naritasan Shinshoji Temple, it is popularly known as "O-fudo-san" in Suminoe.
Access

5 minutes walk from JR Minami-Otaru Station.

By car - Take the Sapporo Bypass into the city and turn right before Irifune Cross Street on Route 5.

Bus - Take the bus bound for Otaru and get off at Sumiyoshi Shrine.


<Addres>
1-6-31 Suminoe,
Otaru-shi, Hokkaido 047-0014
Japan

TEL 0134-23-2460