Temple overview

◎ Religious school: Koyasan Shingon sect
◎ Founded: Founded in 1923
◎ Founder: chief priest Shochu Abe
◎ Current chief priest: The 6rd abbot, chief priest Kosyu Hayasi
◎ Principal image: Fudo Myoo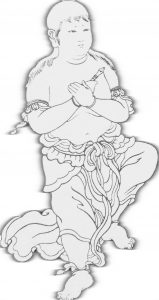 Pilgrim's hymn

History

On May 3, 1921(Taisho 10), the founder abbot Rev. Shochu Abe (secular name: Chuji Abe) began farming in the west ward of Minami-cho, Shibetsu City. The founder of the temple wasa small shrine in front of Reisui in the precincts of Fudo-in Temple.
In 1923(Taisho 12), he became ill and was hospitalized at Kyoritsu Hospital in Asahikawa City. He sought medical treatment, but was told by the doctor that he had an incurable disease, so he turned to Fudo Myoo for reassurance.
In the midst of his painful illness, at around 8:00 a.m. on March 28, 1923, Fudo Myoo suddenly appeared at the head of his pillow and told him.
"Your illness cannot be completely cured by doctor's treatment.
There is a small waterfall on the mountainside to the west of the current address.
Drink the water.
Drink from it and you will be cured."
He never heard the doctor stop and was discharged on April 7. With the help of his friends, he found the waterfall, and as he continued to drink the water, he thought single-mindedly to Fudo Myoo.
Strangely enough, after a week, I was able to walk easily and started to feel better. When the people who heard about this drank the water from the waterfall, they all recovered from their illnesses.
On May 3 of the following year, more than 3,000 people gathered in front of the hall for the first anniversary festival.
This led to the spread of the festival to all parts of Hokkaido, and from that year, the annual festival was set for April 28 in the spring and August 28 in the fall.
Access

From the direction of Wassamu, turn left at the intersection of National Highway No.

40 and Higashi 11 of Shibetsu City Odori, cross the railroad track and go straight on at the crossroads.


<Addres>
1871 Minamisibetu-cho,
Sibetu-shi, Hokkaido 090-0055
Japan

TEL 0165-23-2364
FAX 0165-23-2368