Temple overview

◎ Religious school: Singon sect Busan school of Shingon Buddhism
◎ Founded: Founded in 1952
◎ Founder: chief priest Ryuko Ito
◎ Current chief priest: The 2rd abbot, chief priest Shoken Ito
◎ Principal image: Fudo Myoo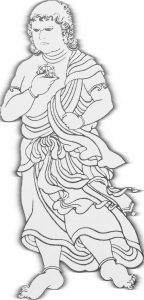 Pilgrim's hymn

History

It belongs to the Busan sect of the Shingon sect, whose founder is Kobo-Daishi Kukai, who is the founder of the sect Kogyo-Daishi Kakuban who is the founder of the middle school and Senyo Sojo, who is the Founder of the School.
The Founder chief priest Ryuko Ito was passionate about the opening of Sakhalin and built the Daishomitu-ji Temple in Uchihoro-cho (currently Gornozavodsk) (Taisho 23).
After the war, he traveled to Kamikawa-cho with his family carrying the principal image of Fudo Myoo(1948(Showa 23)), and opened Naritayama Daishoji Temple and Kamikawa Kindergarten in Kamikawa Town (1952(Showa 27)).
The second head priest, Kozan Ito, established the all-weather cemetery "Asahiyama Mausoleum" in Higashi Asahikawa (1999(Heisei 11)) and the external cemetery "Harukou no Oka Cemetery" in Asahikawa City (2006(Heisei 18)).
The third head priest, Seiken Ito, built the Daishoji Betuin temple in Higashi Asahikawa to promote the Fudo faith.
In addition, it continues to be the 26th Fudasho of the 88th place sacred place in Hokkaido, and the Fukurokuju Dojo of the Sakuhoku Seven Lucky Gods Sacred Ground.
Access

5 minutes by car or 10 minutes by foot from JR Kamikawa Station.

50 minutes by car from Asahikawa Airport.


<Addres>
33 Kita-mach,
Kamikawa-cho, Hokkaido 078-1744
Japan

TEL 01658-2-1573