Temple overview

◎ Religious school: Singon sect Chisan school of Shingon Buddhism
◎ Founded: Founded in 1916
◎ Founder: chief priest Kenei Hosokawa
◎ Current chief priest: The 3rd abbot, chief priest Seiken Tamura
◎ Principal image: Fudo Myoo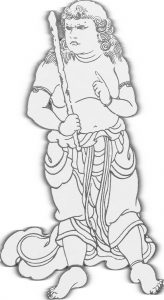 Pilgrim's hymn

History

The main statue of Fudo Myoo and Ryoso Daishi were donated by the head temple, Chisakuin, in 1919(Taisho 8).
Missionary work began in the fall of 1916(Taisho 5).
Approved as a preaching center in 1917(Taisho 6).
On May 12, 1923(Taisho 12), the temple was authorized to be established and its name was officially changed to Dahouji Temple.
The main hall was newly built in 1927(Showa 2).
New main hall was built in 1927(Showa 2), and Shin-Shikoku sacred site was established in 1928(Showa 3).
The main gate was constructed in 1930(Showa 5).
Newly built the present Ossuary in 1979(Showa 54). Newly built the present main hall in 1985(Showa 60).
Revitalization of the Sanjusang Kannon Ritual Shrine in Hokkaido in 1986(Showa 61).
The Hokkaido 36 Fudoson Sacred Site was established in 1988(Showa 64).
In October 1997(Heisei 9), a statue of Shugyo Daishi was erected in the grounds of the temple to commemorate the Jinzan era of the third abbot.
October 2006(Heisei 18): Held a memorial service to celebrate the 90th anniversary of the temple's founding, and erected a permanent memorial tower as a commemorative project.
Access

Soya Bus from Otowishifu and Wakkanai.


<Addres>
Aza Nakatombetsu Nakatombetsu-cho,
Esashi-gun, Hokkaido 098-5551
Japan

TEL 01634-6-1528