Temple overview

◎ Religious school: Singon sect Busan school of Shingon Buddhism ◎ Founded: Founded in 1949
◎ Founder: chief priest Shinko Shonyo
◎ Current chief priest: The 2rd abbot, chief priest Shinko Sensho
◎ Principal image: Fudo Myoo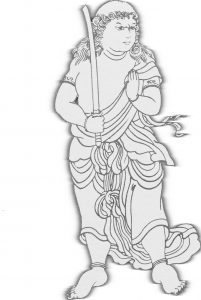 Pilgrim's hymn

History

On August 4, 1945(Showa 2), the Shingon sect Busan school church was established and was commonly known as Shingon-ji Temple.
In July 1928(Showa 3), the temple was hit by the Great Mibuka Fire, which destroyed more than 400 of the town's 600 houses, but the main image of Fudo Myoo was saved from destruction.(The chief priest at the time evacuated with Fudo Myoo, which was thought to be 80 kilograms in weight, in the midst of the raging fire.)
In 1948(Showa 23), with the increase in the number of parishioners, the main hall was built, and in 1949(Showa 24), the official name of the temple was approved.
Temple treasures: There are six transoms depicting the life of Kobo-Daishi by Kumazo Oshima, who was evacuated to Bibuka during the war.
Access

10 minutes walk from JR Bishuka Station.


<Addres>
1871 Minamisibetu-cho,
Sibetu-shi, Hokkaido 090-0055
Japan

TEL 0165-23-2364
FAX 0165-23-2368