Temple overview

◎ Religious school: Singon sect Busan school of Shingon Buddhism
◎ Founded: Founded in 1949
◎ Founder: chief priest Dento Fujikawa
◎ Current chief priest: The 2rd abbot, chief priest Denkyo Fujikawa
◎ Principal image: Fudo Myoo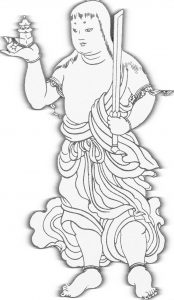 Pilgrim's hymn

History

After the war, Dento Fujikawa, the founder chief priest of the temple, started to build a temple in Ashibetsu to propagate Buddhism.
In order to spread the interests of Fudo Myoo, he practiced Dhutanga on a nationwide pilgrimage.
His wish was fulfilled and the temple was built in 1950(Showa 25), and Fudo Myoo was enshrined.
At the time, An eye opening ceremony to Director of Academic Affairs Busan School of Shingon Buddhism Mr. Miyazaki Sakae Monk.
Densumi Fujikawa was appointed as the chief priest of Founder and the temple name is Shinshoji.
In the precincts of the temple, Buddhist statues such as the Batou Kannon and the Mizuko Jizo are enshrined.
Since its establishment, the Great Goma Prayer Service has been held on the first Sunday of February, attracting a large number of believers.
Access


<Addres>
14 higashi raijocho,
Asahibetu-shi, Hokkaido 075-0162
Japan

TEL 0166-22-224