Temple overview

◎ Religious school: Singon sect Chisan school of Shingon Buddhism
◎ Founded: Founded in 1917
◎ Founder: chief priest Jituko Honma
◎ Current chief priest: The 5rd abbot, chief priest Ryuko Yamase
◎ Principal image: Fudo Myoo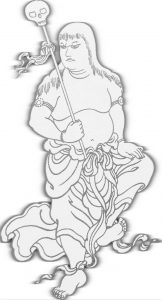 Pilgrim's hymn

History

In 1924(Taisho 13), Shuken Yoshida, the founder and head priest of the temple, retain tin this area and devoted himself to missionary work. And he proclaimed the Fudo-son faith.
Although it was a small hall during the Fudoin Church era, it was popularly known as Naritasan by developing various indoctrination activities.
In order to acquire the name of the temple, which had been long-sought since the opening of the temple in 1927, the new precincts were acquired and the main hall was built, and the name of the temple was Boyo-ji.
Since then, he has been striving to manage the temple and educate the parishioners.
The main deity, Fudo Myoo, was donated by the head temple, Chisakuin, in 1928(Showa 3).
The Daishi-do was built in 1989(Showa 3). The main gate was built in 1993(Heise 5) to commemorate the 70th anniversary of the temple's foundation.
The Gomadang was built in 2001(Heisei 13), and Gomaku is offered every month.
The painting ceiling of the main hall and the section of the Buddha Ichidai sculpture transom are famousWhen Ryusen-ji was built, there was a temple in the Noboribetsu Onsen district.
However, as the main hall deteriorated, the precincts became narrower, and in October 1963, the wilderness of the current location (1500 tsubo) was purchased and relocated.
The main hall, kuri, and ossuary were newly built, and the grounds have been maintained to this day.
霊験談

One day, a weak woman who had a deep faith in God received a message from told her to go to Noboribetsu Fudo-sama.
When I visited Fudo-sama according to this announcement, I was told that "an ancestor memorial service , segaki memorial service" was necessary.
She made a memorial service as told, and when she continued to drink the delicious water that springs from the mountain with the fire of Fudo-sama Goma, she became more energetic day by day.
Since then, at Ryusen-ji Temple, the Parishioners and believer have regularly come to the mountain in search of spring water to convey the importance of ancestral memorial services.
Access

By car, it is about 40 km from Nozomi 22nd Byodo Temple via National Highway 36.

5 km from the intersection in front of Noboribetsu Station toward Noboribetsu Onsen.

Large buses can be parked in the precincts parking lot.

On foot, JR. Is about 10 minutes by bus to Noboribetsu Onsen.


<Addres>
220-5 Nakanoboribetsucho,
Noboribetsu-shi, Hokkaido 059-0463
Japan

TEL 0143-84-2437