Temple overview

◎ Religious school: Singon sect Chisan school of Shingon Buddhism
◎ Founded: Founded in 1895
◎ Founder: chief priest Kakudo Sasaki
◎ Current chief priest: The 3rd abbot, chief priest Kosho Sasaki
◎ Principal image: Fudo Myoo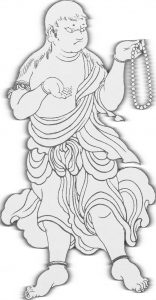 Pilgrim's hymn

History

In 1887, two groups Sanuki (Kagawa Prefecture) and Iyo (Ehime Prefecture) settled for reclamation.
A small hermitage enshrining the Holy Kannon, a branch of the main deity of Unpu-zan Kokusyu-ji Temple (now Mitoyo City, Kagawa Prefecture) in his hometown, was established by Kaku-do Osho.
Since then, it has been worshiped as a temple of Daishi worship. In addition, the statues of Fudo Myo, Kobo Daishi, and Eleven-faced Kannon were solicited from Koya-san (Mt koya).
The current main hall was erected in 1987, and in 2006, the lantern was shining as the 25th temple of the 88 temples of Hokkaido.
The temple is known in the community as the temple of "Onko (first place)" and is crowded with people during the azalea season.
The standing statue of Fudo Myoo was made in the middle of the Edo period, and the Sonsheng Mandala was made in the Northern and Southern Dynasties.
Access

7 minutes walk from Pippu Station on the JR Soya Line


<Addres>
Kotobukicho 1chome 5-4 Kotobukimachi Pippu-cho,
Kamikawa-gun, Hokkaido 078-0349
Japan

TEL 0166-85-2429