Temple overview

◎ Religious school: Singon sect Chisan school of Shingon Buddhism
◎ Founded: Founded in 1935
◎ Founder: chief priest Yuken Sugimoto
◎ Current chief priest: The 2rd abbot, chief priest Junryo Fukaya
◎ Principal image: Fudo Myoo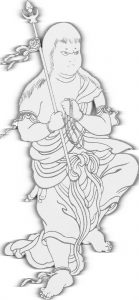 Pilgrim's hymn

History

It was opened as a preaching center in the center of the city by Yuken Sugimoto in 1935(Showa 10).
The temple name was officially changed to Hosen-ji in 1948(Showa 23).
Although the temple declined with the times, it was relocated to Misato and newly built in 2002(Heisei 14) by the 2rd abbot chief priest Junro Fukaya.
From the bell tower on the 2nd floor of the ossuary, you can get a magnificent view of the mountains including Mt. Mashu.
Access

1.5 km from JR Mashu Station, just west of the fire station.


<Addres>
2-9-17 Misato,
Teshikaga-cho, Kawakami-gun, Hokkaido
Japan

TEL 01548-2-2439