Temple overview

◎ Religious school: Singon sect Chisan school of Shingon Buddhism
◎ Founded: Founded in 1920
◎ Founder: chief priest Ryusho Sirasaki
◎ Current chief priest: The 3rd abbot, chief priest Ryutoku Sirasaki
◎ Principal image: Fudo Myoo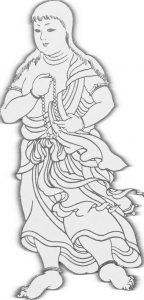 Pilgrim's hymn

History

In 1920(Taisho 9), the founder priest, Ryusho Shirasaki was appointed by Fukui Prefecture as a permanent missionary in Hokkaido. The church was established in 1921(Taisho 10).
It was erected in 1924(Taisho 13) as the Naritayama Church with a frontage of 3ken and a depth of 6ken.
The statues of the main deity, Saint Fudo Myoo, Kobo Daishi, and Kogyo Daishi were donated by the head temple. In 1948(Showa 23), the temple name was officially changed to Hojusan Ryuko-ji Temple.
In 1950(Showa 25), a new main hall with a width of seven and a half ken and a depth of seven ken was completed
The opening ceremony of the memorial tower for the founder priest was held in 1979(Showa 54).
The inner sanctuary of the main hall was enlarged and reconstructed in 1990(Heisei 2).
In 2003(Heisei 15), the ceilings of the outer sanctuary of the main hall and the side Buddhist chambers were replaced with picture ceilings.
2009(Heisei 21) Main hall basic renovation, kitchen and entrance newly built.
Access

From Kitami Bus Center, take the Kitami Bus for 30 minutes and get off at Kunisaki Higashi-machi.

10 minutes walk (next to Kunkofu Town Hall)


<Addres>
64 Asahimachi Kunneppu-cho,
Tokoro-gun, Hokkaido 099-1432
Japan

TEL 0157-47-2274