Temple overview

◎ Religious school: Singon sect Chisan school of Shingon Buddhism
◎ Founded: Founded in 1973
◎ Founder: chief priest Shonin Fujii
◎ Current chief priest: The 2rd abbot, chief priest Shonin Fujii
◎ Principal image: Fudo Myoo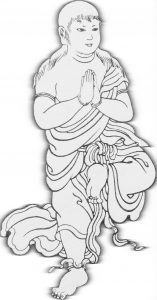 Pilgrim's hymn

History

In May 1973(Showa 48), the temple was opened in Higashi-tsukisamu, Toyohira-ku, and was official name of a temple by the head temple Chishaku-in.
In 1977(Showa 52), when the main hall was too small for and we were thinking of moving, a Bupposo (konohazuku) came to live near the main hall.
The Bupposo began to chirp with To the beat of the drum of sutra and when the sutra was over, he flew away to the eastern sky.
As I watched the bird, I met my current location as if guided by the bird named by Kobo-Dai.
The temple is located in Oyachi, which is now the transportation hub of the metropolis Sapporo, and receives a spirit divided in such a manner to main deity of the temple from Dai-honzan Narita-san Shinsho-ji Temple. Also, branch temple of Daihon-zan Naritasan Sinsho-ji.
The principal image is 36 Doji in the side Buddha, Fudo Myo(3,000 statues), eleven-faced Kannon in the Kannon-do, 300 statues in the side Buddha, and Jizo(3,000 statues) in the Jizo-do.
In the precincts, there are 33 sacred sites, Kannon Buddha, Belfry Hall (Horakudo), and Sanko no Matsu, which is a scenic spot and a place of relaxation in the neighborhood.
It is also the 88th Kechigan-ji Temple at the 88 Pilgrimage Sites in Hokkaido. Similarly, No. 87 is enshrined in the Hogaku-do.
As the 34th temple in the 36 sacred sites of Fudoson in Hokkaido, it attracts many worshippers.
Access

A 3-minute walk to the south of Otani Station on the Tozai Subway Line.


<Addres>
3-5-35 Oyachihigashi Atsubetsu-ku,
Sapporo-shi, Hokkaido 004-0041
Japan

TEL 011-891-9186